Blurring the Color Line: Chinese in the Segregated South
Director: Crystal Kwok Run Time: 77 min. Release Year: 2022
Where did the Chinese sit on the bus during Jim Crow? Blurring the Color Line breaks racial barriers by going beyond the narratives of black & white. Much has been written about segregation upon Black people in the South, but nothing that discusses the social placement of Asian Americans during this time. This film invites critical conversations around today's racial tensions by addressing a connective past. Blurring the Color Line is inspired by Crystal Kwok's grandmother's story about her family's grocery store in Augusta, Georgia. Her family grew up in a Black neighborhood and they share stories about their personal experiences that expose the problematic, racialized system. The film decenters existing narratives and showcases perspectives from both the Chinese and Black community, opening up necessary but uncomfortable discussions between marginalized groups. Blurring the Color Line is a step towards cross-racial solidarity by having a better understanding of the past in efforts of changing the future. Both Asian and Black groups have faced hardships and lack of representation in the media, so this film is needed now more than ever.
Following the screening please join us for a special Q&A with the filmmakers Crystal Kwok and Gustin Smith moderated by Deb Marke.
Crystal Kwok is an award winning filmmaker who established her career in Hong Kong as an actress, writer, director, and talk show host. She won the audience choice awards at the 2000 Deauville Asian Film Festival for her debut feature length film, The Mistress. She was commissioned by Canal Plus to document "A Day in the Life of Jackie Chan" as part of the centennial celebration of international directors, She created and produced a bilingual edutainment video series for young children, "The Culture Cubs" and wrote and has staged several original plays about sensitive women's issues. As a strong women's advocate, her talk show, "Kwoktalk" broke boundaries in Hong Kong with conversations about women and sexuality. Having moved back to American soil after being overseas for a couple of decades, Kwok now embraces issues closer to home — that of her Asian-American heritage. Kwok is currently a PhD student at the University of Hawaii in Performance Studies and a recipient of the prestigious East West Center Scholar awards. She also hosts a radio talk show and podcast, "Kwoktalk" on KTUH 90.1fm, addressing racial and gender issues with a multicultural perspective.
Gustin Smith is an American entertainment executive and producer. He started his career in 2009, working on set in physical production before transitioning to the creative side of the business as a development assistant for Shiny Penny Productions. He joined WME in 2017 and rose through the ranks before moving over to Endeavor Content. With a focus of illuminating diverse voices and elevated storytelling, he founded Village Woods Productions in 2022.
As the Assistant Director, Advocacy and Social Justice Education in the Office of Civic & Community Engagement Deb Marke oversees the OCCE'S social justice initiatives and coordinates both the Deacs Decide election engagement project and Wake Alternative Break.  A Wake Forest alumna, Marke graduated with a Bachelor of Science degree in Health and Exercise Science with double minors in Psychology and Women, Gender, and Sexuality Studies. A gifted facilitator, Marke has developed several trainings on intersectional feminist activism, critical community-building, and leadership development. Before her return to Winston-Salem, Marke served as the Program Coordinator for Leadership and Activism in the Women's Center at the University of Cincinnati, where she was named Outstanding New Professional and served as the Programming Chair for the LGBTQ Faculty and Staff Association.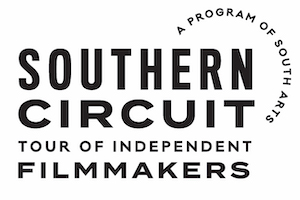 The Southern Circuit Tour of Independent Filmmakers connects US-based documentary filmmakers with communities throughout the South for screenings and conversations around important stories and the art of filmmaking. Southern Circuit prioritizes featuring Southern filmmakers and stories and works with a network of Screening Partner organizations across the region to present screenings with Q&As and other community/educational engagements with touring filmmakers. They are committed to presenting films by filmmakers of color, LGBTQ+ filmmakers, and filmmakers with disabilities.
Since Southern Circuit's inception in 1975, more than three hundred filmmakers from around the country have toured, sharing their work and perspectives with over one hundred Screening Partner communities across the South. Southern Circuit is made possible through a partnership with the National Endowment for the Arts.
All films are free to the public, advance registration is encouraged.