Hazing
Dates with showtimes for Hazing
Director: Byron Hurt Run Time: 103 min. Release Year: 2022
If you think hazing is a trivial college problem, think again. In Hazing, award-winning filmmaker Byron Hurt lifts the veil on secret, underground rituals that are often dehumanizing, abusive, and sometimes deadly. Byron, a member of a fraternity, places hazing culture under the microscope to discover a world of toxic masculinity, violence, sexual degradation, binge drinking, denial, and institutional coverups.
Following the screening please join us for a special Q&A with the director Byron Hurt and Jo Hannah Burch featured subject in the film.
Byron Hurt is an award-winning documentary filmmaker, writer, and anti-sexist activist. His documentary, Hip-Hop: Beyond Beats and Rhymes, premiered at the Sundance Film Festival and broadcast nationally on PBS' Emmy-award winning series Independent Lens. Byron's last film, Soul Food Junkies, also aired nationally on Independent Lens.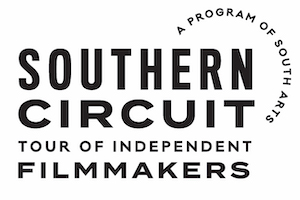 The Southern Circuit Tour of Independent Filmmakers connects US-based documentary filmmakers with communities throughout the South for screenings and conversations around important stories and the art of filmmaking. Southern Circuit prioritizes featuring Southern filmmakers and stories and works with a network of Screening Partner organizations across the region to present screenings with Q&As and other community/educational engagements with touring filmmakers. They are committed to presenting films by filmmakers of color, LGBTQ+ filmmakers, and filmmakers with disabilities.
Since Southern Circuit's inception in 1975, more than three hundred filmmakers from around the country have toured, sharing their work and perspectives with over one hundred Screening Partner communities across the South. Southern Circuit is made possible through a partnership with the National Endowment for the Arts.
All films are free to the public, advance registration is encouraged.