Mama Bears
Director: Daresha Kyi Run Time: 91 min. Release Year: 2022
Spread across the country but connected through private Facebook groups, over 30,000 mothers in America—many from conservative, Christian backgrounds—fully accept their LGBTQ+ children. And they call themselves "mama bears" because while their love is warm and fuzzy, they fight ferociously to make the world kinder and safer for all LGBTQ+ people. MAMA BEARS explores the journeys of two mama bears and a young lesbian whose struggle for self-acceptance exemplifies why the mama bears movement is vitally important.
Following the screening please join us for a special Q&A with the film's editor Kelly Creedon moderated by filmmaker Andrew Harrison Brown.
Kelly Creedon is a documentary editor and filmmaker based in Durham, NC.
Her film editing credits include the feature-length documentaries MAMA BEARS (SXSW 2022), JIMMY IN SAIGON (BFI Flare 2022), FARMSTEADERS (POV 2019) and YOU GAVE ME A SONG: THE LIFE AND MUSIC OF ALICE GERRARD (Full Frame 2019). She also edited the documentary short SANTUARIO (Tribeca Film Institute IF/THEN 2018). She is the recipient of a 2018-2019 Artist Fellowship Award from the North Carolina Arts Council, and a member of the All Y'all Southern Documentary Collective.
Andrew Harrison Brown has spent the last decade working as a humanitarian & filmmaker in sub-Saharan Africa. Most recently, Andrew was a 2022 Points North Fellow and directing BETWEEN THE RAINS, a feature documentary set to premiere in 2023. Prior to that, he was the producer (p.g.a.), cinematographer & editor of KIFARU (Audience Award at Full Frame, Grand Jury Winner at Slamdance).  In the first feature film he produced, Andrew spent three years building relationships within northern Kenya's poaching network, unveiling the intricacies of the illegal ivory trade to tell the story of WHEN LAMBS BECOME LIONS (Best Editing, Tribeca Film Festival); a recipient of Sundance's Documentary Production Grant in 2017.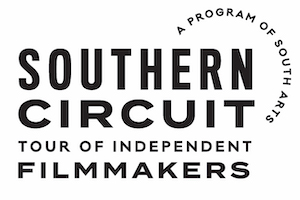 The Southern Circuit Tour of Independent Filmmakers connects US-based documentary filmmakers with communities throughout the South for screenings and conversations around important stories and the art of filmmaking. Southern Circuit prioritizes featuring Southern filmmakers and stories and works with a network of Screening Partner organizations across the region to present screenings with Q&As and other community/educational engagements with touring filmmakers. They are committed to presenting films by filmmakers of color, LGBTQ+ filmmakers, and filmmakers with disabilities.
Since Southern Circuit's inception in 1975, more than three hundred filmmakers from around the country have toured, sharing their work and perspectives with over one hundred Screening Partner communities across the South. Southern Circuit is made possible through a partnership with the National Endowment for the Arts.
All films are free to the public, advance registration is encouraged.