Stay Prayed Up
Director: D.L. Anderson, Matt Durning Run Time: 73 min. Release Year: 2021
In the new documentary Stay Prayed Up, Mother Perry, the sole surviving member of the group, retells the origins of The Branchettes and keeping gospel music alive through their legacy as they record their first live album,  this film is bursting with warmth, joy, and soul-stirring gospel music.  
Join us for the second film in the 2022-2023 Southern Circuit Tour of Independent Filmmakers. Following the film screening stay for a very special Q&A with Lena Mae "Mother" Perry and co-director D.L. Anderson.  This discussion will be moderated by Maestra D'Walla Simmons-Burke, Director of Choral & Vocal Studies at Winston Salem State University.
Lena Mae "Mother
" Perry, the backbone of her community, cooks for crowds, tends to the needy, and boy, can she sing! After 50 years leading the dynamic, down-home gospel group The Branchettes, the octogenarian powerhouse, armed with her unwavering faith, shows no signs of slowing down. A founding member of the North Carolina gospel group The Branchettes, Mother Perry has been singing gospel music since her childhood. Known throughout the South for their mighty spirit, the trio had sung for over five decades with the mission of "lifting weary hearts." 
D.L. Anderson (Co-Director)
Over the past decade, D.L. Anderson has made visual meals out of music and moments from the rural American South. His first documentary feature Farmer/Veteran (Co-Director, Editor, Producer) is an immersive experience that "defies your expectations at every turn." Its broadcast premiere on PBS' Independent Lens followed festival acclaim from Shanghai to Hot Springs. A more recent doc-hybrid short, The Seeds We Keep (Co-Director, D.P., Editor) offers a luminous love song for the art of cultural preservation in the face of erasure.
D'Walla Simmons-Burke (Co-Moderator) is the Director of Choral and Vocal Studies and founder of three of the five choral ensembles currently existing within the Department of Music at Winston-Salem State University.  One of the choral ensembles is the Grammy-nominated Winston-Salem State University Choir (aka WSSU Singing Rams).  The Choir is the first student organization founded at the university.  Simmons-Burke's choirs and ensembles have performed with regional and national symphony orchestras while performing master choral works/Negro spirituals/social justice and world music.  Maestra Simmons-Burke and her choirs have performed on national stages while also performing internationally (Prague, Czech Republic; Nassau, Bahamas; Accra, Cape Coast & Kumasi, Ghana – West Africa; and Pilanesberg, Cape Town and Johannesburg – South Africa).  Under Simmons-Burke's baton, her ensembles have also performed for and/or with regional, national, and international dignitaries.  She has been the recipient of several teaching, community service and performance awards for her national achievements in music and research (i.e… Winston-Salem State University Patterson Outstanding Teacher of the Year Award, Winston-Salem State University Cedric Rodney Service Award and The John F. Kennedy Center for The Performing Arts 105 Voices of History National Conductor's Award).
Joshuah Brian Campbell (Co-Moderator)  is a singer, composer, songwriter, ministry worker and actor from Cheraw, South Carolina. He is the co-writer, along with Cynthia Erivo, of the Grammy and Oscar-nominated and World Soundtrack Award-winning "Stand Up" (performed by Cynthia Erivo and produced by William Wells and Solomon Fox). Joshuah grew up groomed by Southern Black gospel traditions, and this grounding serves as his vantage point to all the music he performs and composes. He finished a master of divinity at Union Theological Seminary (NYC) in May 2021, where he did work in Hebrew and Greek translation, Christian/faith education, biblical interpretation, and Black religious studies. Counting Vijay Iyer, Yosvany Terry, Imani Uzuri, as well as his childhood choir directors among his most important musical teachers, Joshuah currently serves the student population at Wake Forest University School of Divinity as Director of Music and Arts and Director of the University Gospel Choir.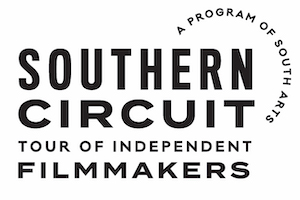 The Southern Circuit Tour of Independent Filmmakers connects US-based documentary filmmakers with communities throughout the South for screenings and conversations around important stories and the art of filmmaking. Southern Circuit prioritizes featuring Southern filmmakers and stories and works with a network of Screening Partner organizations across the region to present screenings with Q&As and other community/educational engagements with touring filmmakers. They are committed to presenting films by filmmakers of color, LGBTQ+ filmmakers, and filmmakers with disabilities.
Since Southern Circuit's inception in 1975, more than three hundred filmmakers from around the country have toured, sharing their work and perspectives with over one hundred Screening Partner communities across the South. Southern Circuit is made possible through a partnership with the National Endowment for the Arts.
All films are free to the public, advance registration is encouraged.
Documentary