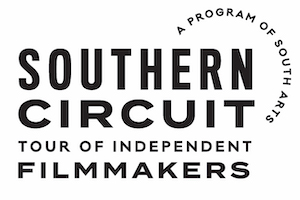 a/perture is a proud Screening Partner of South Arts' 2022-23 Southern Circuit Tour of Independent Filmmakers. The Southern Circuit Tour of Independent Filmmakers connects US-based documentary filmmakers with communities throughout the South for screenings and conversations around important stories and the art of filmmaking. Southern Circuit prioritizes featuring Southern filmmakers and stories and works with a network of Screening Partner organizations across the region to present screenings with Q&As and other community/educational engagements with touring filmmakers. They are committed to presenting films by filmmakers of color, LGBTQ+ filmmakers, and filmmakers with disabilities.
Since Southern Circuit's inception in 1975, more than three hundred filmmakers from around the country have toured, sharing their work and perspectives with over one hundred Screening Partner communities across the South. Southern Circuit is made possible through a partnership with the National Endowment for the Arts.
All films are free to the public, advance registration is encouraged.
---
Hazing
If you think hazing is a trivial college problem, think again. In Hazing, award-winning filmmaker Byron Hurt lifts the veil on secret, underground rituals that are often dehumanizing, abusive, and sometimes deadly. Byron, a member of a fraternity, places hazing culture under the microscope to discover a world of toxic masculinity, violence, sexual degradation, binge drinking, denial, and institutional coverups.
April 16 @ 5pm
click for more info about the Southern Circuit Tour
---
Previously screened
Refuge
Refuge is a story about fear and love in the American South. A leader in a white nationalist hate group finds healing from the people he once hated – a Muslim heart doctor and his town of refugees. Chris is a husband and father, a veteran, and until recently, a leader in the KKK. He started hating Muslims when the planes hit the Twin Towers on 9/11, but is forced to confront his hate when he receives a text from Muslim refugee, Heval. REFUGE illustrates the false promises of hate and reveals where real and lasting refuge is found. Where there is love, there is refuge.
Stay Prayed Up
The only thing mightier than Lena Mae Perry's electrifying voice is her faith. She has spent the last 50 years sharing and sharpening both as the steadfast bandleader of The Branchettes, a legendary North Carolina gospel group that has packed churches throughout the South and lifted weary hearts as far away as Ireland. Stay Prayed Up is a spirited celebration, inviting audiences into "Mother" Perry's close-knit community as the 82-year-old strives to extend her sacred song ministry ever forward.

Outta the Muck
Family, football and history come to life in an intimate portrait of the Dean family, longtime residents of the historic town of Pahokee, Florida. We take a journey back home, with filmmaker Ira McKinley, to the land of sugarcane, as he reconnects with his niece Bridget and nephew Alvin and explores their shared family history that spans seven generations. Told through stories that transcend space and time, Outta The Muck presents a community, and a family, that resists despair with love, remaining fiercely self-determined, while forging its own unique narrative of Black achievement.
Home from School
"Kill the Indian in him, and save the man" was the guiding principle of the U.S. government-run Indian boarding school system starting in the late 19th Century. The program removed tens of thousands of Native American children from their tribal homelands, and through brutal assimilation tactics, stripped them of their languages, traditions, and culture. The students were forced through a military-style, remedial education. Most children returned emotionally scarred, culturally unrooted with trauma that has echoed down the generations. Many students never returned home, having died at the schools. Home From School: The Children of Carlisle dives into history of the flagship federal boarding school, Carlisle Indian Industrial School, and follows the modern-day journey of the Northern Arapaho Tribe as they seek to bring home the remains of three children who died at Carlisle over 100 years ago. 
Blurring the Color Line
Where did the Chinese sit on the bus during Jim Crow? Blurring the Color Line breaks racial barriers by going beyond the narratives of black & white. Much has been written about segregation upon Black people in the South, but nothing that discusses the social placement of Asian Americans during this time. This film invites critical conversations around today's racial tensions by addressing a connective past. Blurring the Color Line is inspired by Crystal Kwok's grandmother's story about her family's grocery store in Augusta, Georgia. Her family grew up in a Black neighborhood and they share stories about their personal experiences that expose the problematic, racialized system. The film decenters existing narratives and showcases perspectives from both the Chinese and Black community, opening up necessary but uncomfortable discussions between marginalized groups. Blurring the Color Line is a step towards cross-racial solidarity by having a better understanding of the past in efforts of changing the future. Both Asian and Black groups have faced hardships and lack of representation in the media, so this film is needed now more than ever.
Mama Bears
Did you know there are more than 32,000 mothers in America—many from conservative, Christian backgrounds—who fully accept their LGBTQ+ children? Spread across the country but connected through private Facebook groups, they call themselves "mama bears" because while their love is warm and fuzzy, they fight ferociously to make the world kinder and safer for all LGBTQ+ people. Although some may have grown up as fundamentalist, evangelical Christians, mama bears are willing to risk losing friends, family, and faith communities to keep their offspring safe—even if it challenges their belief systems and rips their worlds apart.